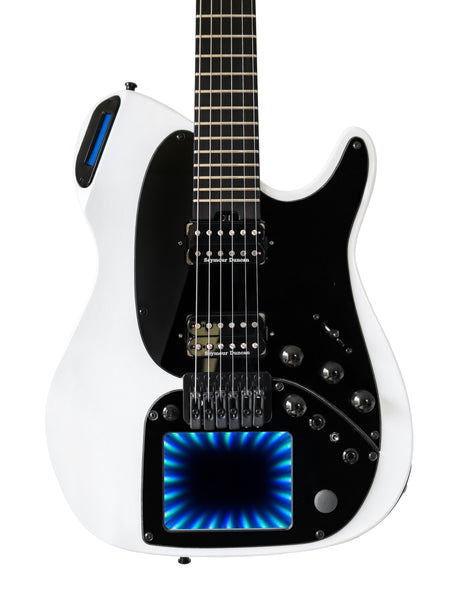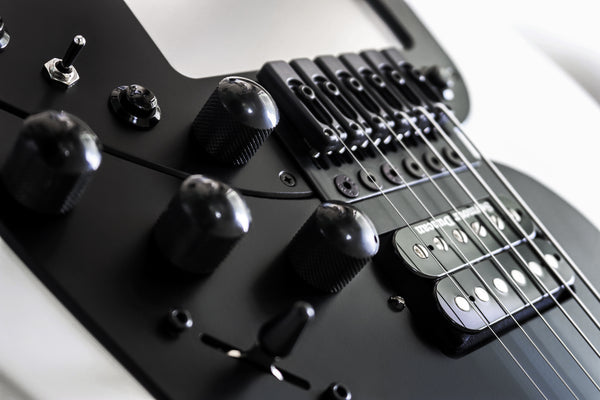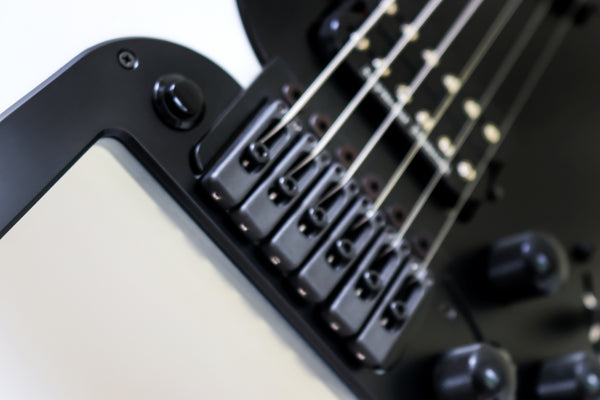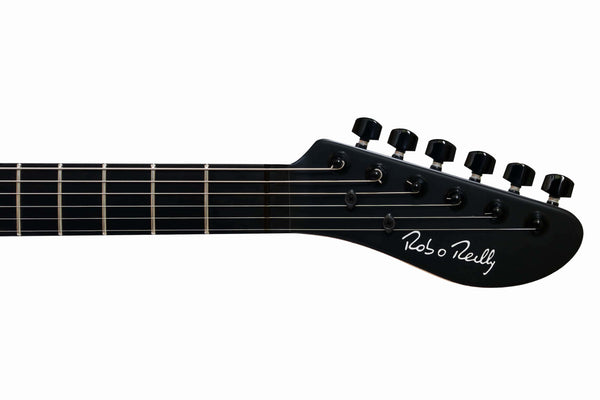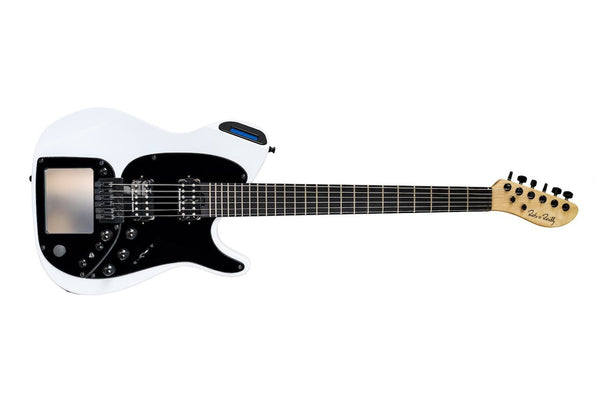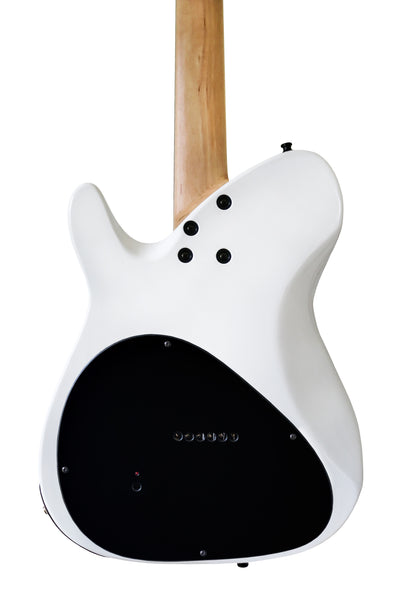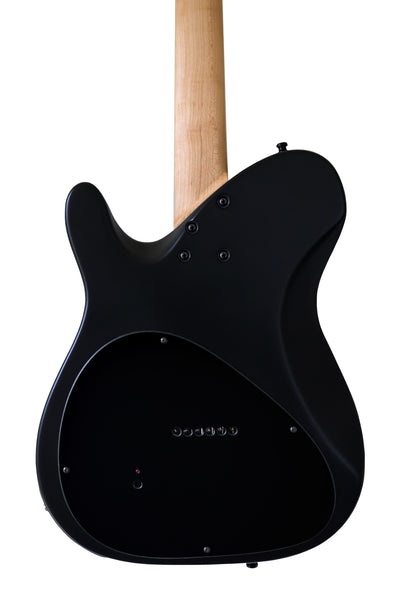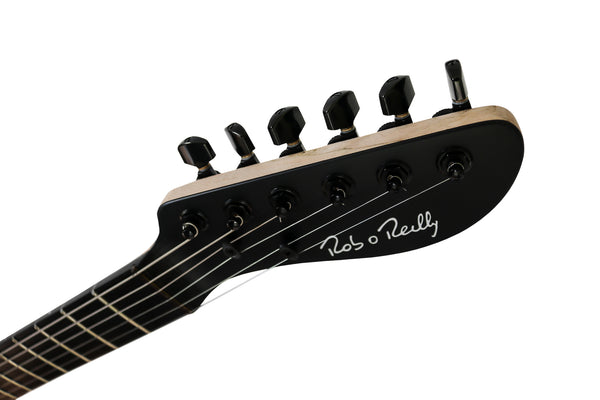 Expressiv MIDI Pro 2
The World's # 1 MIDI Guitar.
Get ready to take your performance to a whole new level. A groundbreaking fretboard scanner. An intuitive XY pad. A beautiful traditional instrument. Powerful 16Mhz processors. Together these features lift you to new dimensions of sound. And they will do the same for everything you create. 
Faster than fast.
Latency is a thing of the past. The Expressiv system knows the notes you're fretting before you even play, giving you real time synthesizer control at blisteringly fast speeds. Think mind-blowing synthesisers at the speed of Van Halen. And its all thanks to the fretboard scanner which transforms your strings and frets into 144 unique velocity sensitive switches. Powerful processors take what you play and send it to your synthesizer in as little as 2 milli seconds.
Plug & Play with everything.
Instantly connect to any hardware synth, Digital Audio Workstation or standard guitar amp with the ultra-durable plug and play outputs. Access the powerful humbuckers and traditional acoustic output from the stereo guitar jack. The high-performance USB or 5-pin MIDI output control any of the thousands of synthesiser and electronic sounds available. Use all four outputs at the same time and create a mind-blowing wall of sound.
A deeper connection to your synth.
The intuitive XY pad brings more functionality to your fingertips. Dynamically trigger notes while bending, modulating, and controlling virtually unlimited assignable parameters. It performs incredibly well with a plectrum allowing you to seamlessly transition between string picking and XY triggering or simply effecting the notes you've played.
Introducing Tap Mode, 

A whole new musical experience.

A palm push on the Tap Mode button effortlessly shifts you into control you've never known. Instantly trigger notes by touching the string on a fret, just like pressing a key on a keyboard. This allows one-handed playing while giving your other hand full freedom to control note parameters - a detail that keyboard players enjoyed for years. And playing faster than ever is a breeze with two-handed tapping. Tap Mode will inspire a new musical experience no matter what kind of music you perform.


Dynamic controls.
Its simple layout allows you easily access all of your controls for any parameter, any Patch or any sound. Play the highest notes of a symphony down to the earth thumping lows of powerful synth bass. Easily get in any key with a Semitone shift. Change MIDI channels and send patch changes to control any or multiple synths at any time. Intuitive control is at the heart of the Expressiv MIDI Pro leaving your spectators wondering what world you came from.


Customize yours.
Fully customize your exact preferences with the easy to use menu. From individual string gains to XY mapping and play modes, your performance will be a dream. The 32 character illuminated LCD display brings full MIDI control to any situation. And the onboard memory allows you to save your favourite settings so your guitar is yours.




Go Acoustic.
Play completely traditional on stage and in the studio or just add another beautiful layer to your wall of sound! Hand made piezo saddles by Graph Tech in Canada bring a powered acoustic output from stereo guitar jack.
Custom Built for Professionals.
We designed and engineered the MIDI Pro for world-class musicians. A Beautiful maple neck and ebony fingerboard give smooth, fast playing with a traditional feel. Hand-wound Seymour Duncan humbuckers bring a powerful tone-rich output. Handmade Schaller locking tuners give extremely stable tuning along with ultra-fast string changing. We hand spray all of our bodies and custom colour options and natural woods are available. These choices are made after your initial order is placed on our website. The Expressiv MIDI Pro will perform like pros expect: flawlessly!
Please note all orders are hand-built in order based on the build our build queue, our current lead time is approximately 12 months from the date of deposit payment and is subject to change depending on orders. 


The ultimate creators instrument.
Never before has this level of control been available from one guitar. Whether you want to stay traditional and experiment with new sounds or submerge yourself in modern music production. If guitar playing, music creating or live performance is your passion, then the Expressiv MIDI Pro will inspire you to new heights.
WATCH Expressive Midi-Pro In Action
READ Technical Spec
_________________________________________________________________________

'What a tool, what an instrument. I cannot tell how much fun it is playing it. This is in my humble opinion, a product of world-class engineering. I cannot understand how a guitarist cannot desperately want one. But not only is this instrument a perfect MIDI controller, it is also, in terms of guitar manufacturing, a very fine instrument with great and comfortable playability. I am completely happy.'
Alexander Schall - Fusion Jazz Guitarist - Germany
_________________________________________________________________________

'I feel it is one of the most precious things I ever held in my hands. The MIDI Pro 2 just delivers. It is an incredible instrument that gave my creativity new fuel. When you play a MIDI instrument with a guitar, not only you feel more comfortable as a guitarist but the result are different. It's not a keyboard and you are not gonna play it as if you play a keyboard. The new approach is evident and is gonna bring you to new musical results. The tracking is great, the feel is great, the features are a joy. I just love my MIDI Pro 2 and I feel lucky I came across it.'
Riccardo Tomassetti - Italian Guitarist
_________________________________________________________________________

'First impression: AMAZING! The latency is super low! Exactly what I hoped. This thing is addictive'
Rob Vauglers - Quest for Groove Music Vlogger
_________________________________________________________________________

'This is indeed the best MIDI guitar solution out there, no question. Tracking is excellent for both picked and legato playing, and I haven't perceived any significant latency. What I really appreciate is how well the guitar tracks keyboard-based instruments such as piano, rhodes, harpsichord, etc. Even the best pitch to MIDI pickups can have issues with that'
David Schwartz - USA Guitarist
_________________________________________________________________________

'Hi Rob, with the latest updates, the guitar is now perfect: compliments!'
Ciro - Italian Guitarist
_________________________________________________________________________
"Wow!!!!  Rob, it's everything I hoped it would be! Truly amazing, I can't believe how good this is! The tracking is spot on, there are no ghost notes, no latency, it's awesome. I couldn't put it down... being able to loop guitar and synths from the same instrument, or play them at the same time... just, wow.  So much fun!! - Many thanks for building this beautiful instrument - It's been blowing my mind all evening!!!"
David Walker: USA Expressiv MIDI Pro customer
 _____________________________________________________________ 
PLEASE NOTE THAT THIS PRODUCT IS HAND BUILT AND HAS A CURRENT LEAD TIME OF APPROXIMATELY 12 MONTHS. A DEPOSIT WILL RESERVE YOUR PLACE IN THE QUEUE.